"Westworld" is an American dystopian science fiction, neo-Western television series created by Jonathan Nolan and Lisa Joy. Produced and aired by HBO, it is based on the 1973 film of the same name (written and directed by Michael Crichton) and, to a lesser extent, the film's 1976 sequel, Futureworld.
Genre: Science fiction, Drama, Dystopian, Western
Created by: Jonathan Nolan, Lisa Joy
Network/Platform: HBO
Release Date: October 2, 2016
Running Time: 48~91 minutes
Country of Origin: United States
Original Language: English
No. of seasons: 4
No. of episodes: 36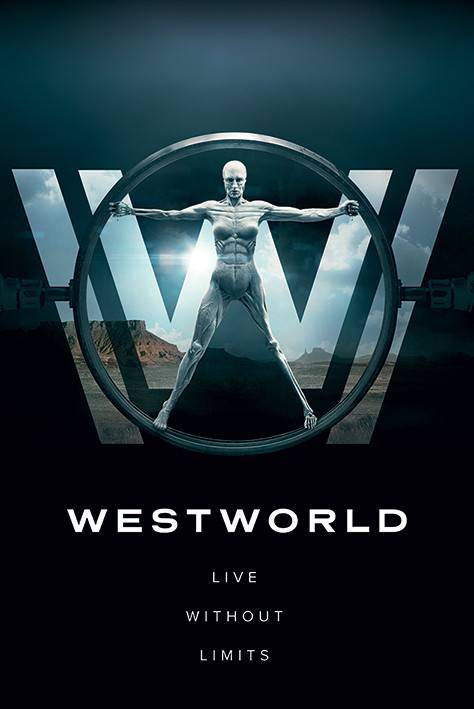 Trailer
Premise
Westworld's story begins in Westworld, a fictional, technologically advanced Wild-West-themed amusement park populated by android "hosts". The park caters to high-paying guests who may indulge their wildest fantasies within the park without fear of retaliation from the hosts, who are prevented by their programming from harming humans.
Later on, in the third season, the series' setting expands to the real world, in the mid-21st century, where people's lives are driven and controlled by a powerful artificial intelligence named Rehoboam.
Cast
Current
Evan Rachel Wood as Dolores Abernathy (seasons 1-3) / Christina (season 4)
Thandiwe Newton as Maeve Millay
Jeffrey Wright as Bernard Lowe / Arnold Weber
James Marsden as Theodore "Teddy" Flood
Luke Hemsworth as Ashley Stubbs
Angela Sarafyan as Clementine Pennyfeather
Ed Harris as the Man in Black
Tessa Thompson as Charlotte Hale (seasons 1-3) / Dolores Abernathy aka "Hale-lores" (season 2–present)
Aaron Paul as Caleb Nichols (season 3–present)
Previous
Ingrid Bolsø Berdal as Armistice (seasons 1–2)
Sidse Babett Knudsen as Theresa Cullen (season 1)
Simon Quarterman as Lee Sizemore (seasons 1–3)
Rodrigo Santoro as Hector Escaton (seasons 1–2; guest seasons 3–4)
Shannon Woodward as Elsie Hughes (seasons 1–2)
Anthony Hopkins as Dr. Robert Ford (seasons 1–2)
Ben Barnes as Logan Delos (season 1; recurring season 2)
Clifton Collins Jr. as Lawrence Gonzales (seasons 1–2; guest season 3)
Jimmi Simpson as William (season 1; recurring season 2, guest season 3)
Fares Fares as Antoine Costa (season 2)
Louis Herthum as Peter Abernathy (season 2; recurring season 1)
Talulah Riley as Angela (season 2; recurring season 1)
Gustaf Skarsgård as Karl Strand (season 2)
Katja Herbers as Emily Grace (season 2; guest season 3)
Zahn McClarnon as Akecheta (season 2)
Vincent Cassel as Engerraund Serac (season 3)
Tao Okamoto as Hanaryo (season 3; recurring season 2)
Episodes
| Season | Episodes | First Released | Last Released | Network / Platform |
| --- | --- | --- | --- | --- |
| 1 | 10 | October 2, 2016 | December 4, 2016 | HBO |
| 2 | 10 | April 22, 2018 | June 24, 2018 | HBO |
| 3 | 8 | March 15, 2020 | May 3, 2020 | HBO |
| 4 | 8 | June 26, 2022 | August 14, 2022 | HBO |